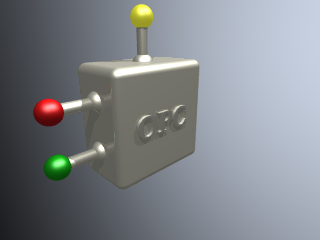 The SchoOPC-server is a modular and scalable server application for connection over OPC (Open Connectivity). Supported standards:
OPC DA 1.0a,

OPC DA 2.05,


OPC DA  3.0,

OPC AE 1.0,

OPC AE 1.1 (limitations see below).

OPC UA 1.02
The process connection is realised through special device drivers, of which a couple is available as a demo-version or as a free version that´s included in the standard installation.
We develop OPC-servers for our clients. 
You need an OPC-server for your devices or applications, contact us and we prepare an offer about the devopment of your OPC-server.
Currently available device drivers.
S7-driver for Simatic S7-300, S7-400, S7-1200, Siemens LOGO! 0BA7 and 0BA8, Simatic Net and MHJ S7 Soft-SPS.
Modbus/TCP-Slaves.
Conrad / Velleman K8055-/VM110-USB experimenting boards.
Rotronic HygroFlex HF 4x/5x temperature and moisture sensor.
EtherCat-Master.
System information.
Telecontrol central station DIN EN / IEC 60870-5-104.

HygroFlex HF 4x/5x-series with TCP/IP
Technical characteristics of the SchoOPC-server:
OPC Data Access-

conformity

according to OPC DA 1.0a, OPC DA 2.05, OPC DA 3.0, OPC AE 1.0, OPC AE 1.1 and OPC UA 1.02.
Free OPC test-client for OPC DA and OPC AE, usable for all für all

compatible

OPC-servers.
OPC-Client-

compatability

tested with many OPC-Clients.
Compatible with Windows 2000®, Windows XP®, Windows XP Embedded®, Windows 2003 Server®, Windows Vista®, Windows 2008 Server®, Windows 7®, Windows 2012 Server®, Windows 8® and Windows 8.1®.
Simple installation and Windows-registry. Keine No additional components necessary (z. B. MFC-DLLs or .NET-Framework®). When necessary usage of portable media possible, e.g. USB-Memory-Sticks (no installation necessary, but Windows-registry).

Easy operation

and learnability.

Scalabe

for devices, groups and articles.

Modular

und unlimited expansions in terms of device interface.

SchoOPC Excel-Addin

for direkt integration of OPD-data in Microsoft Excel

.

Multi language

(German, Englisch) on OPC-Client site.

extensive diagnosis possibilities

Client friendly licence model,

licensing via device driver. Demo and free licences.

Optimised speed of execution

and minimised storage and recourse demand.
Real

Multi-CPU-support

on Multi-Core- or Multi-CPU-PCs.

Consistent renunciation of additional components like .NET-Framework®

or MFC-DLLs, that causes run time problems*1.

Low system requirements

to memory and CPU-speed and usable on nearly every Windows-PCs since Windows 2000®.
14 years experience (1998-2012) with the development of OPC-servers and OPC-clients.
cost effective

*1 Some device driver need additional components. By choosing additional components attention was paid to simple installation, optimum speed and avoidance of run time problems.
In Preparation

SchoOPC ActiveX-Control for direct website integration.
OPC HDA is OPC-standard for alarms (Alarm & Events) or data archiving (Historical Data Access).
OPC HDA is rarely requested, because most HMIs or SCADAS (see WinErs) already have similar possibilities and only few OPC HDA-clients are available.
When interested in an OPC HDA, please contact us.
Downloads: